Before Roots was the shop we all know and love, it was a carpeted and wallpapered furniture showroom. And as the first hire, Hillary Morgan helped transform it into Roots Brew Shop. Hillary jokes that her back still hurts from tearing out the carpet and sealing the floor with paper mache.
Hillary grew up in Marne, Michigan as an only child. She noted people who know her seem very surprised by this. She received her degree in Allied Health Science from Grand Valley State University. After graduating, she moved to Colorado for a year to work at a camp. Hillary's father sadly passed away in 2014 and she returned to Michigan.
Through a mutual friend, Hillary and Mallory became housemates despite not knowing each other. Mallory was starting Roots and though Hillary didn't have coffee experience, she hired her to help with renovations on the shop and to be a barista when it opened. "I was the practice interview."
The showroom needed a lot of love ("my blood, sweat, and tears are all over this shop!") but upon opening in 2016, Hillary was behind the counter serving coffee. She had also just started grad school at Western Michigan University. I asked her why she decided to go back to school and she admitted that she has had a lot of death in her family. Because of this, she has seen multiple counselors. Her first counseling experience wasn't great. But she persisted in finding a counselor and is glad she did. She said she will tell you sixteen times, "If you don't like your counselor, find someone else!"
In the 7 years she has been back in Michigan, Hillary has coached Varsity girls basketball and led Young Life. In that time she observed, "we don't teach kids how to feel. We teach kids to put their heads down and grind. I want to be the safe person and space for kids to talk to." Both of those experiences led her towards her Masters in Counseling Education. She graduated with this degree in December and is now a therapist at Mindful Counseling GR in Standale. She says it's her dream job.
Hillary will have a full client load within the month. "In a global pandemic with a lot of racial injustice happening, the demand for counseling is very high. Surprise!" I asked her how she is able to take care of herself while taking care of others. I learned there is an art to scheduling clients with a little break in between for some rest and fruit snacks. "There is no shame in laying on your floor and taking some deep breaths with the sun on your face."
When she's not at the shop or counseling, she enjoys an active lifestyle. You can typically find her with her main man, Maverick, a black lab. She could throw a frisbee with him for hours. She also loves to camp, swim, read and puzzle.
Hillary's last day as a Barista was April 2. I asked her how she felt about it. "You can't really leave a place like Roots. There is no other place that is centered around community like Roots is. Mal set the precedent for that." We could have talked for hours about what the shop means to her and how it has impacted her life but being Hillary at Roots Brew Shop means that someone was coming up to talk to her every few minutes of the interview and eventually I had to let her go back to the people.
Because of her dedication and commitment to Roots over the past 5 years, she will be receiving a lifetime supply of black coffee. This has yet to be cleared by Mallory. There is a chance Hillary made this up.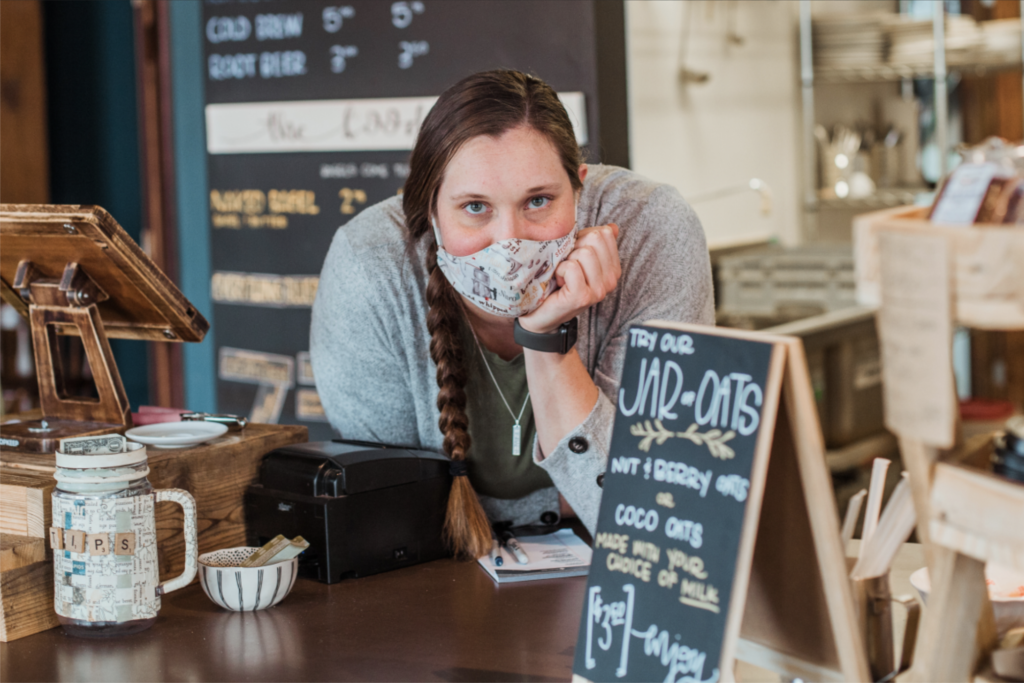 Book you'd recommend: "Body Keeps the Score" – Bessel Van der Kolk
Go to Roots order: Plain black coffee. Asiago bagel with garden veggie cream cheese (but with butter on it first).
Build your favorite meal: A year ago she went to Italy with a friend and they stayed across the street from a restaurant. They went everyday, three times a day. Anything from that hole in the wall restaurant on the coast of Sorrento.
Person/ thing that makes your day better: Her dog, Maverick. He loves to be outside, nap, and swim. They take a walk together every day. "That's how I feel refreshed and better."
Favorite thing about yourself: I have this ability to make people feel comfortable and safe enough, to be honest, and share (with themselves and with me).
"You just need some fruit snacks and you will feel 25% better."